Alina Kudryavtseva
Back to People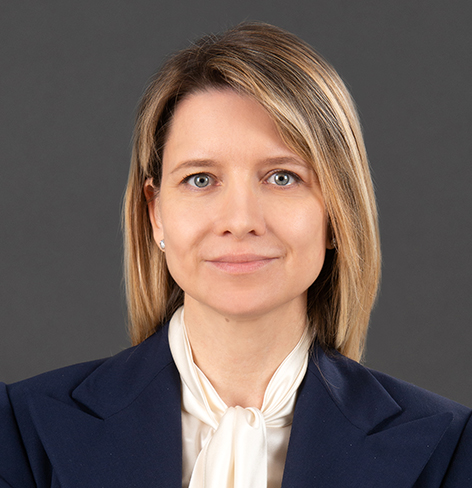 With more than 20 years of experience, Alina Kudryavtseva focuses on representing clients in commercial disputes, bankruptcy cases, corporate conflicts, and real estate and construction litigation.

Alina pays special attention in her practice to cases of protection of honour, dignity and business reputation and the pre-trial settlement of conflicts with the media in connection with the distribution of defamatory information in relation to well-known businessmen, artists, celebrities and sportspersons.

Alina also represents the interests of private clients, advising on wealth transfer matters, and representing them in family disputes, including the settlement of issues with children – visitation rights, residence issues and international abduction (being illegally taken abroad).

Education
Moscow State Social University, Law Degree, 2000


Languages
English
Russian

Qualifications
Advokat registered with the Moscow Bar Association
Experience
Representing a Russian leasing company in a bankruptcy case related to an illegal money transfer of more than RUB16 billion before commercial courts of the Moscow Circuit and the Supreme Court of Russia
Representing a Russian ammonia transportation company before commercial courts of the Volga Circuit in a RUB2 billion dispute initiated by a Russian fertiliser company and related to access to an ammonia pipeline
Representing a Russian real estate developer in a conflict with the government concerning the land take for foreign embassy facilities before commercial courts of the Moscow Circuit and in respect of an application to the European Court of Human Rights
Representing a Swiss coal trader in a dispute with a seaport operator in the Krasnodar Territory on the termination of an over-USD300 million "take or pay" transshipment contract before commercial courts of the Moscow Circuit and the Supreme Court of Russia
Representing a music producer and composer in a business defamation case against a Russian media group and its owner
Representing a German tennis player in a defamation dispute with Russian media concerning a false accusation of domestic abuse
Representing a Russian metals company in a corporate conflict, including disputes concerning the election of the board of directors at the annual general meeting, share buyback, shareholders exercising the right to receive information on the company's operations, and director liability before commercial courts of the East-Siberian Circuit
Publications
Alina has written articles in legal journals on execution proceedings, construction and bankruptcy matters.

"Private bailiffs: What prevents the reform," Bankovskoye Obozreniye, 2019
"Construction contract: What if the counterparty is bankrupt," LF Academy, 2020
"Cooperation between the claimant and the bailiff: opportunities and prospects," Zakon, 2017
Career
2022-present

Counsel, Denuo (Moscow)

2020-22

Counsel, DLA Piper (Moscow)

2010-20

Counsel, Egorov Puginsky Afanasiev & Partners (Moscow)

2000-10

Legal Assistant, Lawyer, Inter-Republic Bar Association (Moscow)

1999-2000

Legal Assistant, Moscow Bar Association (Moscow)
Professional memberships
Moscow Bar Association

Member
Teaching experience
Kutafin Moscow State Law University
Lecturer of self-authored courses on the protection of business reputation and legal writing
2018-19